An Epic Social Media Content Calendar Template (with Tutorial)


Having a hard time figuring out what to post on social media? Do you want a template to organize and plan your content so that you always have something to share?
I'm with you. It's hard to stay ahead of social media! One thing's for sure: a social media content calendar template will help you stay on track, post consistently, and keep track of important events and promotions you want to share.
Today, I'm sharing how to create and use a calendar with Google Sheets, with a free content calendar template you can start using right away.
Let's dig in!
#1: Create Monthly Goals
It's important to have an end goal for all content you share so that you can track what's working, which types of content drive your bottom line, and what to change based on campaign performance.
For most of us, our goals fall into the category of generating more leads and sales. Working backward from these long-term goals, we can create short-term goals that will help us achieve them.
The key with short-term goals is to start small, be specific, and set a realistic time frame to achieve each goal. At the end of each month, you want to be able to track your growth, see what worked, and set new goals for the future.
Remember our Blog Profit Series? We're filling up each of those buckets, plus a fifth one:
Content
Followers (new!)

Traffic
Subscribers
Sales

#2: Determine what you will share
The purpose of a social media content calendar is to provide a framework for sharing content that resonates with your audience and also sells your blog business. Before creating your calendar, be sure to plan content around specific campaigns and goals.
First, determine the types of content that make sense for your business and audience. Some common categories include:
Blog posts
Quotes + motivation
Product promotions
Holidays
User-generated content
Events + announcements
Depending on your business, your categories may look different and can be as broad or specific as you need. For instance, a health club might have these categories:
Free trials
Challenges
Workout videos
Holidays
Workshops + clinics
Recipes + nutrition
Daily WODs
Fitness tips
Once you've chosen your categories, create a separate spreadsheet to use as a working library for the original content, products, events, and promotions you plan to share. It's helpful to color-code each content type so that you can easily differentiate them on the calendar.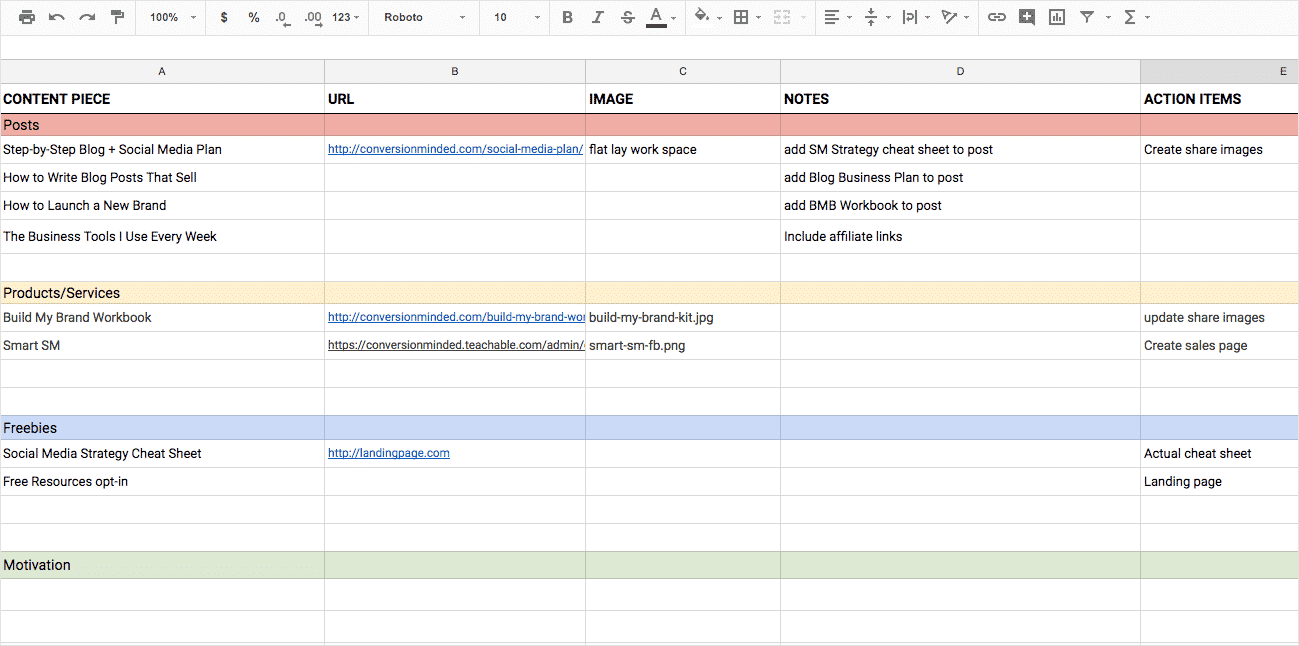 Having a hard time coming up with blog ideas? I've got 3 places to find them right here.
Make sure you include publishing dates, post descriptions, URLs, images, action items, campaigns, and any other details needed for your workflow. If you have weekly or monthly content themes, add a column to the left of the spreadsheet, and include your theme.
I recommend managing other people's content, RSS feeds, and Feedly subscriptions with a tool such as SmarterQueue and using the social media content calendar to plan original content, images, and timely promotions that require extensive planning and coordination.

#COLORTIP Use the same color codes for each category in your scheduling tool! Color coding makes it super easy to spot your categories across multiple tools and spreadsheets.
Plan your content on or before the first of each month. Throughout the week, you can fill in by creating content, designing images, manually sharing posts, and adding them to your scheduling tools.
Bonus: If you want, you can use this social media cheat sheet with over 24 days of content ideas. Click the image below to download.

#3: Next Up, Create the Calendar
Here's where the fun starts! Log in to Google Drive to create a new spreadsheet.

Create a sheet by selecting the New tab, and then click the title to rename it. Now it's time to customize the spreadsheet and create your calendar template.
Since we'll be working with seven columns, select columns A–G and drag them to the right until they fill the screen. Then delete columns H–Z.
Next, highlight the cells in the first row, and select Format from the top menu to merge the cells (Merge Cells > Merge All). Customize the font style, and center the text.

DOWNLOAD the PRE-MADE CONTENT CALENDAR TEMPLATE HERE
In the next row, enter the days of the week, beginning with Sunday. If you'd like, you can freeze these two rows so that they remain in view at all times by highlighting them and selecting View > Freeze > Top Two Rows.

In the next row, enter calendar dates, and then select the top three rows and add a bottom border using the border tool from the top menu.
Next, add your social media profiles to each date, leaving one or two rows between each profile to accommodate your posting frequency. Then select each column, and add a right border to each.

Leave a few extra rows, and add a bottom border to the last row in week one. Then copy week one, change the dates, and complete the calendar template.

Don't forget to download the done-for-you content calendar template so you can start using it right away. It's a huge time-saver!
DOWNLOAD the PRE-MADE CONTENT CALENDAR TEMPLATE HERE
#4: Add content to the calendar
Now it's time to choose the specific days that you will share each piece of content. Using the same color blocks, add the content from your working library.

Customize the calendar to suit your posting frequency. For instance, you may want to include specific times you plan to share each post or add email and other distribution channels. I like to use the additional rows each day to highlight important events and promotion dates.
If you publish a large volume of content each month, you may even want to create separate calendars for each social media profile.
I regularly share the same content on each profile and find it helpful to use a simple color-blocked version of my calendar so that I can quickly see what content I plan to share each day.

#5: Create the Content
Now that your calendar is complete, it's time to research, gather your content, create blog posts, and design images. If you find yourself struggling to find the time to execute on your social media plan and create the content you need, the tools below will help.
PromoRepublic
PromoRepublic is a social media content builder with more than 6,000 templates created by designers, writers, and other industry professionals.
With PromoRepublic, you can share stunning visual content to Facebook, Instagram, Twitter, and LinkedIn at the click of a button. What I like about PromoRepublic is that in a matter of seconds I can share posts that would normally take hours to brainstorm and create.
PromoRepublic pricing starts at $9 a month for up to five social profiles.

RelayThat
RelayThat is a graphic design platform that makes it easy for nondesigners to create beautiful images.
RelayThat is probably the fastest image creation tool I've used to create high-quality social media images. Use the one-click resize function to quickly choose a tall, wide, or square template. Then choose a background, and add your logo and text. Use the remix function to rapidly change the position of your text until you find one you like.

For a complete tutorial on how to use RelayThat, click here.
Trello
As a visual person, I'm drawn to the design of Trello. While the Google Docs calendar provides a framework for planning content, I prefer managing the content creation process inside Trello, which is like a whiteboard for content.
In Trello, lists are categories, and cards are individual pieces of content. You can move cards from list to list, color-code your cards to match your calendar, and add images and descriptions to your cards. Setting due dates for cards will automatically place them on the Trello calendar.
Even the free option is useful for businesses and organizations, and you can easily share boards with team members.

SmarterQueue
SmarterQueue has become my go-to scheduler, both for sharing evergreen content and other people's content.
You can share content from any feed, whether it's your favorite source, RSS feed, a Pinterest feed, a Facebook feed, or a competitor feed.
If you use Feedly, you can import an OPML file into SmarterQueue and arrange bookmarks from the left sidebar. To schedule Feedly content, add an "other people's content" or "articles" category to your social media schedules. Then head over to the Add Content tab in the top menu, and select the piece of content you want to share.

Note: SmarterQueue is an evergreen scheduler and will automatically set your post to recycle. Be sure to select One-Time Post when you're sharing other people's content. The only content you want to re-share is your own!
Step #6: Track Your Posts + Promotions
Now that you've planned the content you want to share each day, it's important to follow through and ensure that you share it.
Use a spreadsheet to track when and where you've shared content on each social media channel. The tracking sheet will also help coordinate content promotion with your team. Use notes to add tweet text and descriptions for each post.

The promotion spreadsheet is also helpful to keep track of older posts that you'd like to share with any new social accounts.
If you want, you can download the blog promotion worksheet here:

Final Thoughts

Using a social media calendar will help you plan your content around smart social media goals and coordinate with campaigns and blog content to achieve them. If you use the tools mentioned here to create and share high-quality posts at the right time on each channel, you will likely see more results from social media.
Remember to monitor each channel for engagement, moderate comments, and reply to fans and followers daily. Check the analytics of each platform to see what content resonates with your audience, and use that to inform future marketing campaigns.
Over to you! Do you use a social media content calendar? What tools do you use for creating and scheduling your posts in advance?
https://conversionminded.com/wp-content/uploads/2018/01/content-calendar-700x350.jpg
350
700
Sandra Clayton
https://conversionminded.com/wp-content/uploads/2022/01/logo-n.png
Sandra Clayton
2018-01-12 23:45:37
2022-05-12 04:09:40
An Epic Social Media Content Calendar Template (with Tutorial)